Cloud Services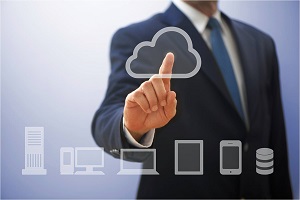 Everyone is talking about cloud services. What are cloud services?
Everyone is talking about cloud services. What are cloud services? Cloud services are simply another clever way to say your data and applications can be accessed over the internet using any device you want. What it really means is you have the freedom to move from a laptop to a tablet, to a smart phone and have access to all your tools and data. We offer unique solutions to deliver all or part of your computing needs independent of which device you choose to use.
Work where you want the way you want, using the device you want
Dramatically improve your ability to respond to customers on the go
Rely less on a specific computer and redundant storage of your data
When you separate the connection your data and applications have to a physical computer, it means you no longer tie yourself to a single device, or worse, several devices to give you freedom. Really what it means is that even if there is a fire in your office and all the computers burn to a crisp, you can still access your data and applications over the internet with absolutely no downtime apart from replacing the physical computers. Insurance will replace your physical computers; nothing can replace lost or stolen data.
Cloud computing, as we have seen, can be a wonderful business enabler. However it is for you as a small business owner to calculate if it's the right fit for your current environment. Hiring an IT consultant to help you with the assessment can save you time and money down the road.
Contact us today for a FREE, no obligation cloud readiness assessment.